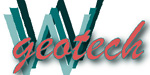 A Tribute to the Volunteers—
Contributors and Members of W3G
Thousands and thousands of files were recently (summer 2002) transferred from the old Geotech to the new EJGE Web servers, something which made me realize how much work has gone into this Web work over the last seven years. It has also made me remember those individuals who have made this such a meaningful and useful place, the geotechnical website of the world. This is a brief account of those contributors, recorded here to give credit where it is due. I am thanking them here on behalf of you, all the geotechs of the world.
Creative Assistants
The following two geotechnical engineers have made very important contributions to W3G; instead of listing their names in every category below, they are listed here making up this special category. Thank you ladies!

Debra (Siegel) Melland
Jennifer Frazier

By the way, both of them started out as geologists—something that we see very often—why? My theory is that girls are attracted to rocks, especially pretty stones; later they discover geotechnical engineers, who are slightly better company than rocks :). At any rate, we are very grateful for their contributions. Thank you Debra. Thank you Jennifer!
GVL editors
Many individuals have made contributions updating the GVL pages; but some have gone even further—introducing new pages/areas, such as these individuals. Thank you all!

Sheila Beavers-Allensworth
Chad Grinsteiner
Jeremy Basler
Justin Cook
Mark Brown
Andrea Hyatt
Ho Yong Fook
S. Satha Manickam
James P. Henry

iGEM writers
These have contributed by writing, or by providing information for, special features in iGEM. Thank you guys!

Sheila Beavers
Kathleen Church
Chris Corley
David M. Doolin
Dan Hernandez
Sophie Moghadassi
Brande Overman
Kelita Stephens
Bekki Ward

EJGE Advisory Board
These are those distinguished geotechnical engineers who have lent their names early on as supporters of EJGE and acted as advisors in general. Thank you!

Michele Jamiolkowski 
Kaare Høeg 
Nilmar C. O. Janbu
Rainer Massarsch 
Norbert R. Morgenstern 
Mehmet T. Tumay 

EJGE Editorial Board
These are those geotechnical engineers who have lent their names as supporters of EJGE and taking an active role as editors (evaluating the papers submitted). Thank you all!

Jean-Pierre Bardet          Jacobo Bielak            Nenad Bicanic 
Peter J Bosscher            Edward Brylawski         Joseph A. Caliendo 
Dave H. Chan                Patricia J. Culligan     Michael C. R. Davies 
Charles Dowding             Eric C. Drumm            Sam Frydman
Pit Fritz                   Lars Grande              Issam S. Hallal
Francois E. Heuze           John S. Horvath          Sinan Inel
Milan Maksimovic            W. Allen Marr            Paul W. Mayne 
Reed Mosher                 Michael E. Pace          Sibel Pamukcu
Jean Herve Prevost          Yoram Rubin              David Toll
Frank C. Townsend           John R. Williams         Mishac K. Yegian 
Thomas F. Zimmie

EJGE authors
These are those selfless individuals who have spent their time and energy to prepare a presentation of their recent work on improving the geotechnical engineering science and technology for the benefit of the rest of us. Our hats are off to you all, thank you!

Patricia J. Culligan        C. Savvidou              Andrew Barry
John S. Horvath             Paul W. Mayne            James Beaver
David Geoffrey Toll         Milan Maksimovic         Tim Spink
John R. Williams            Rory O'Connor            Nabha Rege
Jean H. Prevost             Radu Popescu             Ian G. N. Smith
J. Oliphant                 S. G. Wallis             Sibel Pamukcu
Bhaskar Joshi               Charles Maule            E. De Jong
Sam Frydman                 Derin Ural               Hasan Saka
Yingwen Song                Hideji Kawakami          Türker Mirata
A. Gökalp                   M. Sakar                 Charles Dowding
Ioannis Sebos               Byung-Tak Kim            Young-Su Kim
Teresa López-Lara           J.A. Zepeda-Garrido      V.M. Castaño
N. O. Nawari                R. Liang                 J. Nusairat
S. Kumar                    V. Puri                  Erdal Cokca
Ezzat William               David Airey              Ian Coker
Roger Flores                Jennifer McPhail         Paul Hellen
Sherry Britton              Charlie Colvin           Travis Silvey
Joe Jones                   Wenhui Tan               Jiachen Wang
Meifeng Cai                 Aykut Şenol              Ahmet Sağlamer
Odysseus Manoliadis         Kostaninos Sachpazis     Ali A. Mahmood
NorAzazi Zakaria            Fauziah Ahmad            Sanjeev  Kumar
Mike Alizadeh               Latika Lalvani           Agus Setyo Muntohar
Emad Akawwi                 Atef Al-Kharabsheh       Moses Karakouzian
Nick Huydma                 Burçin Avar              Sanjeev Kumar
Vijay K. Puri               Braja M. Das             Bimal C. Devkota
Fu Helin                    Li Liang                 Liu Baochen
Hou Zhengmeng               K-H Lux                  Mehmet Tumay
Pradeep Kurup               Steve Starrett           Omar Itani
Hugo Davalos                Yacoub Najjar            Lakshmi Reddi
Mike Stewart                Maria Tsakiri            Hussein El Arabi
Emad Akawwi                 Atef Al-Kharabsheh       Gunnar Bergström
Stefan Nilsson              Mien Jao                 Mian C. Wang
H. C. Chou                  C. J. Lin                Dheeraj Kumar
P. K. Behera                U. K. Singh              S. M. Mir M. Hosseini 
Igor Hrnčić                 Abdellah Alem            Ahmed Benamar
Georges B. Kakou            Hideyoshi Shimizu        Shinichi Nishimura
S. Kim                      Andrew G. Heydinger      C. Y. Lee
J. S. Yang                  Mien C. Wang             Basem K. Moh'd
M. M. Futai                 M. S. S. Almeida         Sudhir Tewatia
Ergül Yaşar                 Alaettin Kılıç           Yasin Erdoğan
A. Tapınç                   Nasim Uddin              Ajantha Karunaprema
A.G.H.J. Edirisinghe        Sayeed Ahmed

GML Project contributors
GML project has been realized with the contribution of these geotechnical engineers with computer skills. Thank you!

Ian Brown
Salvatore Caronna
Murray Fredlund
Nadim Ash
Paul Bryden
Erik Knowles
Laurel Gorman
Linda Haarvik

Self-appointed Advisors and Morale Supporters
Last but not least, a large number of people around the world have sent in their thanks, criticisms, and ideas. Here is the first two dozen of them. Thank you for your morale support--you've made it all worthwhile.

David M. Doolin
D. Barrier
Roy J. Shlemon
Joe Caliendo
Daniel Rodriguez
Li Chung
Mustafa Aytekin
Carlos Restrepo
David L. Manka
Heinrich Heinz
Ken Riner
Trevor Davies
Alan Esser
Armando de la Rocha
David Andrews
Ian Smith
Mark Gilbert
Nabil Hmeidi
Mike Laney
Lindsay O'Keeffe
Cameran Mirza
Usama Karim
Craig W. Beard

Interns/Young Volunteers
In all of W3G activities, but especially EJGE, we receive valuable help from interns and other freelance volunteers. Thank you all so much!

Günther S. Brown
Diana Goehr
Mike Mensies
Liz Rasdon
Larry Zellner

EJGE Subscribers/W3G Members
Almost from day one, we have kept a subscription form page. Using this page, those visitors who thought EJGE was a great idea and this was a great website, would enter their names, and minimal other information about themselves, to register as subscribers. It was told that the main purpose of this was to register your support of this activity on the Web. Literally thousands of people have joined in.
Thank you all for your support and great contributions!
Mete Oner
September 2002