First-time user please read this navigation help (bottom of this page).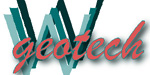 WORLD WIDE WEB OF GEOTECHNICAL ENGINEERS
Leading the Web to its full potential for geotechnical Engineers...
This website (www.ejge.net) contains tens of thousands of files organized in three areas:
GVL The Geotechnical Virtual Library
iGEM The Internet Geotechnical Engineering Magazine - contains articles on the lighter side of geotechs;
EJGE The Electronic Journal of Geotechnical Engineering - contains full size technical papers on recent research studies by geotechs around the world.
These areas can be accessed by a link-block at the bottom of many pages:

The home picture in the other version of this link block (shown below) points back to this page, which is the Home Page of this website (ejge.net) ---home page means the top of all pages at a website, not just any web page.