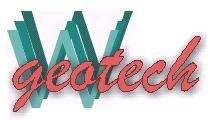 WORLD WIDE WEB OF GEOTECHNICAL ENGINEERS

About W3G
W3G Document Library
Using/Referencing W3G Documents
Currently Active W3G Projects



World Wide Web Virtual Library of Geotechnical Engineering, WWWVL:Geotech or simply GVL as most geotechnical engineers prefer to call it.




The Internet Geotechnical Engineering Magazine. It publishes magazine articles, hosts the world's first and only Geotechnical Engineering Hall of Fame, and presents timely information for geotechs such as the conference calandar and available jobs.




The Electronic Journal of Geotechnical Engineering publishes high quality, peer- reviewed scientific and/or technical journal articles.




The Steering/Working Group on developing the standards and protocols for the interoperability of geotechnical engineering computer applications.
Geotech Server Home Page
If you want to start from the top, here is a link for you to go to the home page (i.e., the root directory of the server) -- here are two home pages: