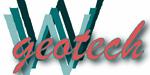 About the World Wide Web of Geotechnical Engineers (W3G)
History
The World Wide Web of Geotechnical Engineers (W3G) was founded by Mete Oner, professor of Civil (Geotechnical) Engineering, OSU, in October 1996, right after he completed the formation process of the Electronic Journal of Geotechnical Engineering (EJGE), and the EJGE was inaugurated on the anniversary of Terzaghi's birthday.
Remembering Terzaghi in this way touched the geotechnical engineers in the world, and this lead to a number of further developments, the first of which was the formation of the Geotechnical Engineering Hall of Fame. The Hall of Fame includes such legends as Coulomb, Rankine, Casagrande, Skempton, Janbu, and Bjerrum, and still continues to grow.
The interest in this activity on the Web accelerated the expansion of this website, and within just a few years, the Geotechnical Virtual Library, GVL (est. 1995), and the Internet Geotechnical Engineering Magazine (iGEM, est. 1997) were added to this Web activity, which was now being dubbed the Geotech Website by its users.
Goals
Geotechnical engineers interested in using the Web are widely distributed geographically. The Web presents an opportunity for people to interact at an unprecedented scale. This interaction will undoubtedly result in rapid exchange of ideas and knowledge, which will increase the productivity of geotechnical engineers in performing their profession, and indeed in serving the public. A new kind of cooperation method is needed for making these advances possible. The objective of W3G can then be summarized as: developing the Web to its full potential for geotechnical engineers.
Organization
W3G, being an organization on the Web, has a distributed organization and membership. The members of W3G are distibuted throughout the world, covering essentially every civilized country. All checks during the last several years have confirmed the same result: there are more members of W3G than the subscribers of all email lists combined (even counting the duplicates!). W3G is governed by an Advisory Board and a President. The current President of W3G is Mete Oner.
Advisory Board
The Advisory Board of W3G is composed of the same distinguished group of people who initially gathered together to guide the EJGE. These are truly extraordinary people, who have made very significant contributions to the progress of the profession. Although the Board only has an advisory, rather than an executive function, the members' wishes have always been executed promptly by the Director.
Operation of W3G
W3G started out following the rules and procedures set up by similar organizations over the Internet, such as the Internet Engineering Task Force (IETF) and the World Wide Web Consortium (W3C).
Over the years, W3G has been developing its own practices and procedures. Often, rule-making is not found necessary at all, since similar situations have been encountered by others before, and appropriate processes have evolved. Thus, whenever there is no rule made up specifically for (and by) W3G, the rules of the Consortium Process apply.